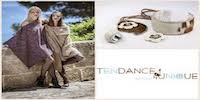 Discover the fashion Universe of TENDANCE UNIQUE MONACO
You will find on Tendance Unique's e-shop Stéphanie's exclusive creations. 
Dresses, tunics, customed baskets and clutch bags but also handmade necklaces and bracelets in her showroom/manufacturing workshop in Monaco, 
Our collections are inspired from ethnic, boho, hippie chic styles, with fashion colours and fluid materials for unique creations.
Tendance Unique's adventure started in 2011, with the encounter between Stéphanie and Valérie, two passionate fashion designers.
In 2017, their roads took different paths and Stéphanie continues the adventure alone.
From her showroom/manufacturing workshop based in Monaco, and also thanks to my travels, she meticulously works on every piece of each collection and offers original and unique creations.
From dresses and tunics through basket, purses, necklaces, bracelets and accessories, she draws her inspiration in ethnic and bohemian chic trends.
Fluid and trendy materials, Tendance Unique's collections stick to the fashion designer's personality: chic and timeless.